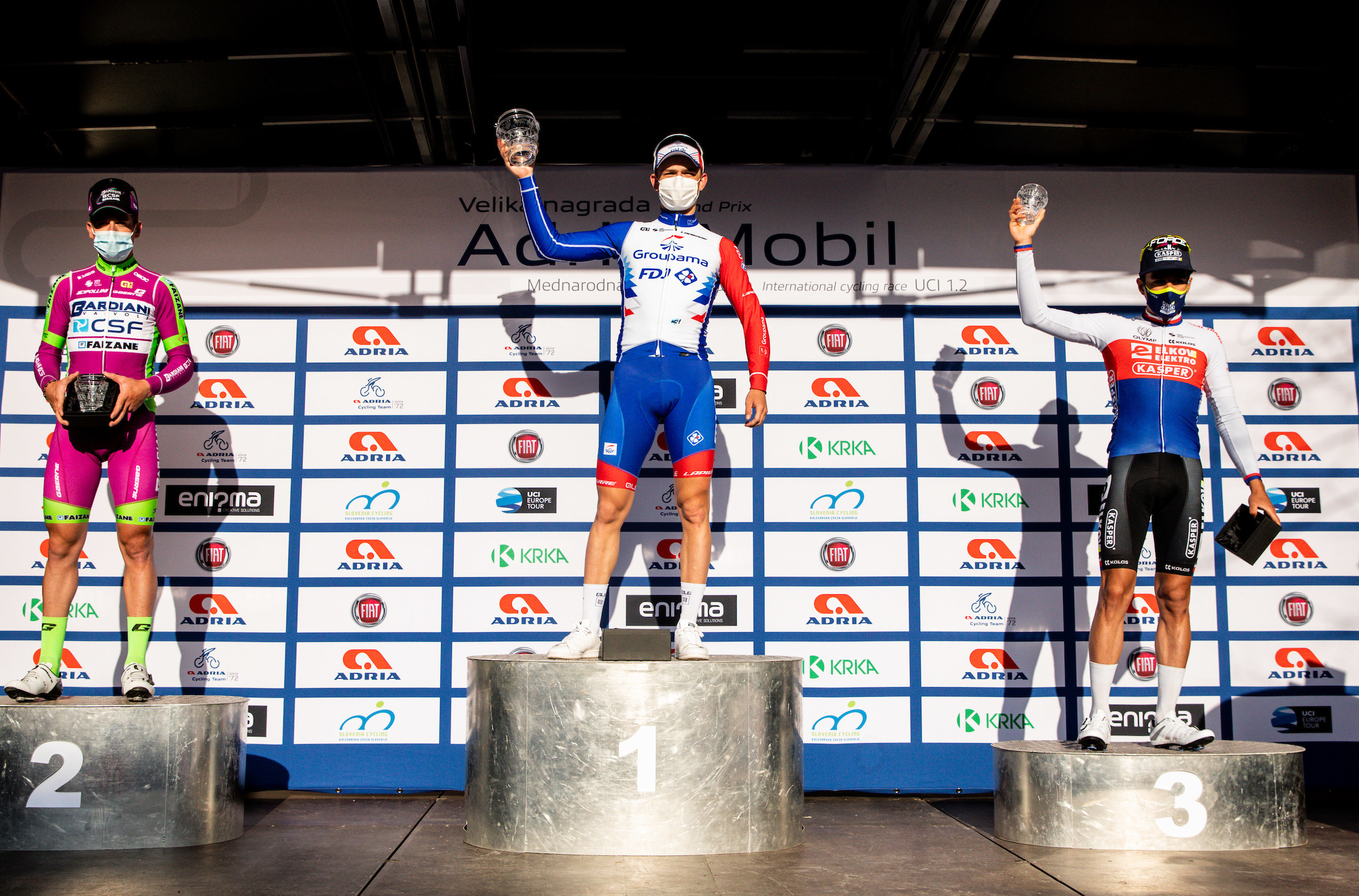 Marjin van den Berg won Grand Prix Adria Mobil
Dutch Marjin van den Berg, member of the development team Groupama – FDJ, won 6th edition of Grand Prix Adria Mobil, best Slovenian riders was David Per in fifth. Race had a strong competition and live online broadcast with more than 55 thousand unique viewers.
Slovenian spring classic is considered as one of the harder one-day events in the category. 181,5 kilometers long race has two longer climbs, but the really hard are last two laps with short, but very edgy climbs that always make a big selection in the peloton. Today's race went according to this scenario – with long breakaway that was doomed to fail due to the strong teams with sprinters, and peloton falling apart in several smaller groups. Fastest of these groups decided on the winner in Novo mesto, and the battle was fought between van den Berg and Italian Filippo Fiorelli (Bardiani CSF Faizane). Dutch was slightly faster in the last meters and took his first victory of the season.
"We had a really strong team and in the sprint I asked the boys to do a good lead-out and they did it perfectly. I went as third through the last corner, I was in the wheel of the Fiorelli. I know I was strong, and I gave it all in the end. At one point I thought I'm going to crash, he closed the gap and I was close to the barrier, but luckily he gave me some space and I could pass him," explained van den Berg after the race and also talked a little bit about tactics: "I knew that I have to go over the climbs and then stay calm and trust the team. This is what I did, and we did it perfectly. I have to give them a big thank you. I feels good, this is my first win of the season. Parkour was really hard and was perfect for me. Small group and a sprint is always good, it suits me perfectly."
Second was Fiorelli, third was Czech rider Adam Ťoupalík (Elkow – Kasper). Best Slovenian rider was David Per (Adria Mobil Cycling) in fifth place. David was happy with the result, but admitted that he had a bigger agenda: "The race was very hard, it has a hard profile and very strong competition. But this is our home terrain, and we know these roads. The hardest were the last kilometers, when Bardiani and FDJ set their trains for the sprint. I was pretty much alone and used a lot of energy before the finals sprint. I was a great battle and I quietly wanted to take a podium position, but I'm also happy with fifth. This is a nice result for this kind of race and this field."
Grand Prix Adria Mobil (UCI 1.2) was again organized after a 2020 cancelation and received a strong interest from the continental teams – organizers even had to decline entry to some of the teams. Race had a online live broadcast, which was a great success as the race was watched by more than 55 thousand unique visitors. This will boost motivation for the organizers who are already getting ready for the Tour of Slovenia later in the season and will have live broadcast on Eurosport and Slovenian Television.
Race director Bogdan Fink was pleased with the outcome of the race: "Sixth edition of the race was great. We had the strongest competition to date, and despite the large field and technical profile we didn't have a lot of crashes. Race is really hard, this is also why the peloton fall apart. I also want to congratulate David Per, he did really good today."
German Matthias Mangertseder (Team Felbermayr Simplon) won the best climber competition.
Video credits: Tele Ho
Photo credits: Vid Ponikvar/Sportida